We could use a heap o' helping.
Although The Catholic Cafe operates under the umbrella of the Diocese of Memphis in Tennessee, we receive no financial support from them. We're 100% funded by donations and grants. Which means we need you.
Just imagine what you could help us do:
Expand this ministry to include video for television and web.
Spread the Gospel with new technologies and platforms, like mobile and social media.
Travel to more destinations, to bring you the highest-caliber guests… world-wide leaders in Catholic thought, philosophy, and spirituality.
Help compensate current and future staff so they can be fully dedicated to our evangelizing efforts.
By donating, you'll have a special place in our ministry. It'll be just like you've squeezed into the corner booth with us — right between Tom and Deacon Jeff! Yes,
indeed… you'll be a fellow "Corner Boother."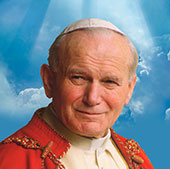 Pope Saint John Paul II called all of us to go forward into the New Evangelization with new ardor, methods, and expression.
Become a Corner Boother today. It's easy!
Help us save the world… one cup of coffee at a time.
Online:
Click this button to go to our secure
PayPal page:
Please prayerfully consider offering sustained support. All you have to do is check the box that says, "Make This Recurring (Monthly)." Remember: all donations are tax-deductible, and we are grateful for every single widow's mite we receive.
Mail:
Please make checks payable to
The Catholic Cafe, and send to:
The Catholic Cafe
c/o Robert Hutton, KM, President
Glankler Brown
6000 Poplar Avenue, Suite 400
Memphis, TN 38119
Now here's the fine print: The Catholic Cafe, Inc. is a Tennessee not-for-profit religious corporation, with the Roman Catholic Bishop of the Diocese of Memphis in Tennessee as its sole member. Under its bylaws, a majority of the positions on the Board of Directors and the President of The Catholic Cafe must be members of the Order of Malta – Federal Association. The Catholic Cafe is listed in the Kennedy Directory under the Diocese of Memphis, and donations to The Catholic Cafe are considered tax-deductible under the Group ruling issued to the Catholic Church by the Internal Revenue Service.